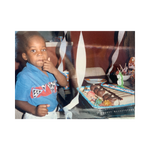 Uncle Charlie's Gourmet Snacks is more than just a snack company; it's the story of one man's passion for food and family. Chef C.E. Cottman, the company's founder, grew up fascinated by the forbidden homemade cheesecake that his great "Uncle Charlie" kept in the fridge. While he never tasted his uncle's legendary cheesecake, it ignited a culinary curiosity that he carried into adulthood. Throughout his career, Chef Cottman searched for the perfect "canvas" to showcase his creativity and training.
It wasn't until a move to the Midwest US that he discovered a local homemade snack that would change his life...
But the story of Uncle Charlie's Gourmet Snacks goes beyond just delicious snacks. "Uncle Charlie" is actually Dr. Charles A. Carter, PhD, a World War II Veteran, frontline infantry medic for the U.S. Army in Italy, and one of the infamous Buffalo Soldiers of WW II. He went on to become one of the first Black clinical psychologists in U.S. history. As a kid, Chef Cottman's great Aunt Thelma would make them any kind of cake they wanted, but "Uncle Charlie's" cheesecake was always off limits, especially to the kids. Chef Cottman still dreams of that cheesecake today.
Dedicated to Delicious Snacks 🏆
With a focus on quality ingredients, Chef Cottman launched Uncle Charlie's Gourmet Snacks in Fall 2020 with the goal of providing gourmet chocolate snacks that the whole family could enjoy. At UCGS, we're dedicated to delivering the same level of snack excellence to each customer that we would for our very own family.
Our mission at UCGS is to give people that special feeling of homemade gourmet nostalgia in every bite. We reimagine and modernize your favorite classic snack foods with premium ingredients and gourmet flavors. Charlie's Chow has already won the hearts of chocolate snack lovers throughout the Midwestern US, and our unmistakably sweet crunchy texture and unique gourmet flavors are attracting more and more fans from all over the world.